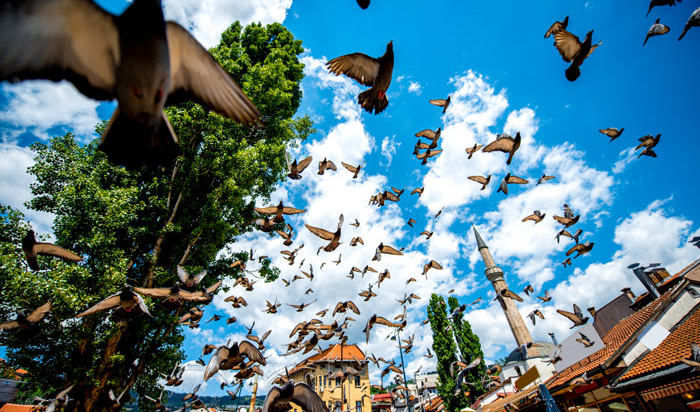 Sarajevo
Sarajevo - the capital and largest city of Bosnia and Herzegovina is within the network of bus lines of Croatia Bus and the group Globtour extremely well connected with major destinations in the country, as well with countries such as Croatia, Montenegro, Serbia, Slovenia, Italy, Switzerland, Austria, Germany and Scandinavia. Regarding departures to/from Croatia, the most attractive ones are those from Zagreb, Split and Dubrovnik, several times a day.

From Zagreb four times a day at promotional price of 188 kn for one - way ticket and 270 kn for a return ticket.

Departures from Zagreb: 06:30, 12:30, 16:45 * and 22:00
Departures from Sarajevo: 06:30, 09:30 *, 12:30 and 22:00

* In cooperation with partner company Globtour Medjugorje. For departure from Zagreb at 16:45 return trip from Sarajevo is possible only at 09:30.

From Split twice a day at price 168 kn for one-way ticket and 269 kn for round trip.

Departures from Split: 07:00 and 13:30
Departures from Sarajevo: 06:00 and 16:30

From Dubrovnik every day at 10:00 at the price of 152 kn for one - way and 228 kn for a return ticket. Departure from Sarajevo every day at 16:30.

Passengers traveling from Sarajevo have at disposal various bus lines to many European centers such as Ljubljana, Maribor, Zurich, Lucerne, Berne, Milan, Trieste, Frankfurt, Munich, Stuttgart, Stockholm, Copenhagen, Oslo etc. International bus lines may be direct or with bus change in Zagreb, Split or Dubrovnik.
to Austria daily from Sarajevo at 11:15 with possibility of daily returns
to Scandinavia Saturdays at 09:30 with possibility of returning to Sarajevo on Thursdays
to Slovenia, Italy, Switzerland daily from Sarajevo at 09:30 with possibility of daily returns

to other European countries with bus change in Zagreb, Split or Dubrovnik